Patch Notes 10.7.1.5000
General
Added Talaghan Material packages to Envoy in Atlas.
Fixed touching tomb was increasing exp debt instead reducing it.
Monster Cards
Added star icon to card filter showing a card is part of the New System.
Instances
Forsaken Abbey (Hard)
Fixed players weren't taking damage from heals during Zombiefied.
Fixed Spider's Web was causing ping to occasionally spike when multiple webs were spawned.
Visual Changes
Fixed a few small visual issues.
Reduced alpha of Speak Frame highlight.
Fixed Dark Core weapons had no glow effect.
Fixed Low/Medium/High predefined options were not working in settings on login screen.
Champion
Changed Shock Overload to be removed upon zone change.
Mage
Removed The Sage ability to cast while moving, increased duration to 30 seconds from 15, reduced cooldown to 90 seconds from 180.
Reduced Voice of the Sea cooldown to 240 seconds from 360.
Mage/Priest
Changed Electric Explosion to consume Conduction in order to inflict double damage.
Changed Vortex to have 2% MP cost and apply a debuff to targets for 10 seconds that increases received wind damage by 4%.
Changed Wave Essence to increase wind damage by 32% additionally.
Changed Tide Mastery to increase wind damage by 16% additionally.
Increased Magic Drain duration to 30 seconds from 15, removed global cooldown trigger.
Rogue
Fixed Forsaken Maneuver was interrupting invisibility effects.
Fixed Bloodless set skill effect was interrupting invisibility effects upon ending.
Druid
Fixed Recover was not consuming Nature's Power properly.
Warlock
Removed Knowledge Acquisition Willpower Blade requirement.
Changed Terror of Broken Souls set skill to be an active skill.
Warlock/Champion
Changed Saces' Impulse to reduce movement speed by 16.1% additionally.
Warlock/Mage
Changed Soul Brand Sting to be usable while moving.
Changed Flaming Heart Strike to inflict dark damage equal to its fire damage portion additionally:
Reduced Thinking Overload cooldown to 60 seconds from 180, reduced duration to 30 seconds from 60 seconds, changed its effect to 20% elemental damage from 25% cast speed.
Bard
Bard/Mage
Changed Fireball to lose 3% damage for each extra target it hits.
Reduced Maestro fire damage gain to 50% from 56%.
Bard/Warlock
Changed Spiritual Rune to additionally disable soul consumption.
Music Festival
40 different stats from Heavenly Score.
26 custom cards from festival monsters.
22 hidden custom titles from festival activities.
Draco
During the festival you can exchange Earth Zodiac materials and Geo Draconaris for a Draco Pet.
Obtain Geo Draconaris from:
John Bach – exchange 15 x Notes and Musical Scores for a reward.
Cavy's Riot
‌Event type: Kill monsters
Start location: Varanas
Event location: Varanas Bridge, Obsidian Stronghold Gates
Event Target: Find Cavy Riot and kill as many Cavies as possible
Reward: Musical Notes, Musical Scores, Phirius Potions
Musical Scale
‌Event type: Play melody
Start location: Varanas
Event location: Varanas Central Plaza
Event Target: Talk to Venus Garter, memorize musical notes and play the tune correctly
Annual Musical Horse Trials
‌Event type: Kill monsters‌
Start location: Varanas
Event location: Varanas Central Plaza
Event Target: Speak to John Bach, form a Group, pass by 3 checkpoints and fight off monsters, deliver Music Box safely to Lia Luther
Music Parade
‌Event type: Music, Interaction
Start location: Varanas
Event location: Varanas Central Plaza
Event Target: Talk to Jade Baglama, receive instrument, take part in the Music Parade
Rescue the Musical Angel
‌Event type: Fight, Puzzle
Start Location: Varanas Bridge
Event location: Forsaken Abbey
Event Target: Talk to Nedo Andus, transport to Event Location, touch platform to‌ ‌Start event, solve energy puzzle and obtain treasure box
Musical Energy Collection
‌Event type: Puzzle
Start Location: Varanas Bridge
Event location: Varanas Bridge
Event Target: Talk to Nala Melody, ‌Start musical device, solve the puzzle
Gate Keeper
‌Event type: Movement, Puzzle
Start Location: Varanas
Event location: Varanas Central Plaza
Event Target: Talk to Armosen Lok, Hit the tunes on the Musical scale
Turn the Gramophone!
‌Event type: Movement, Puzzle
Start Location: Varanas
Event location: Varanas Central Plaza
Event Target: Talk to Pullli, trade Torn Scores for Restored Score, Start the gramophone, hit the right energy boxes
Lost Magic Note
‌Event type: find and kill monsters, movement
Start location: Dalanis
Event location: Dalanis, Thunderhoof Hills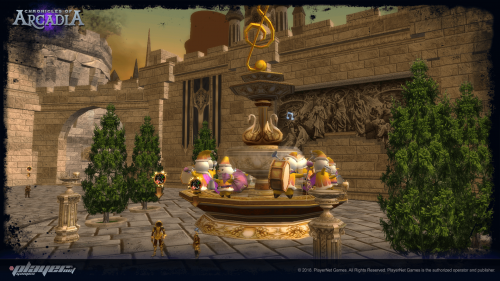 Post Patch Notes
Bard
Bard/Warlock
Fixed soul consumption was not working properly.
Mage
Fixed The Sage item set skill cooldown was wrong.
Mage/Priest
Fixed Soaking Wet was increasing wind resistance instead.
Patch Notes 10.7.1.5050
General
Reduced game client size slightly.
Changed Doomlord Costume Potion, Fanersai Banquet Costume Potion and Baroque Noble Costume Potion to be unbound.
For Newcomers
Added new quest to each starting zone to help find a housemaid.
Fixed experience modifier buff for players who have it higher than maximum stack.
Clarified description of The last proof quest that it's intended for Normal Mode instances.
Fixed purchasing level 80 power up pills from Johnny Dalker when having exactly 1000 diamonds.
Housing
Furniture
Added 66 new furniture.
Allowed guild castle specific furniture to be placed inside house.
Moved guild castle furniture to House Shop, adjusted some prices.
Added new craftable boss furniture piece to Sardo Castle (Normal), Aeternal Circle (Normal), Kulech Bones Nest (Hard).
UI
Moved "Add item to Depot" to top of furniture list.
Added indicator to newly placed items into house depot.
Added filters to Furniture tab for displaying Placed/Not Placed/Expired furniture.
Monster Cards
Fixed some Forsaken Abbey (Hard) cards weren't obtainable.
Fixed it was possible to obtain cards with unintentional attributes.
Fixed Magical Tower and Spy cards weren't obtainable in Dark Core.
Fixed some Arcane Chamber of Sathkur (Hard) cards weren't obtainable.
Instances
Entity Chamber
Fixed Venemous Claws was effecting pets.
Minigames
Andor Training Range
Fixed Blasting FIreball wasn't working correctly.
PvP
General
Disabled 1v1 and 6v6 Arenas.
Disabled using potions and buff food inside PvP areas.
Added new craftable potions for restoring HP/MP in PvP Zones.
Gear
Increased values of some PvP Runes.
Removed PvP purchasable gear packages.
Reduced values of existing stats on PvP gear by 50%.
Added ability to plus weapons beyond their base value of 16.
Added some additional magical weapons and healer offhands.
Siege War
Increased NPC Load distance in Siege War.
Disabled farming activity score whilst AFK.
Changed Gate Dmg reduction effects to be visible.
Disabled players from capturing towers whilst inside vehicles.
Fixed Siege War times weren't adjusted with daylight savings time change.
Added list of activity points gained and displayed time until activity is decremented.
Added option to surrender current Siege War by using Surrender Card obtained from Guild Throne.
Reduced Gate Dmg reductions on gate when opposite guild holds all towers gradually, the longer the towers are held.
UI
Added team colors to Arcanium Arena messages.
Fixed Player Damage Rate was missing from character frame.
Visual Changes
General
Added quick select bar to pet tools.
Added title name to Title tooltip when title isn't obtained.
Added colors to names of NPCs and zones in static popups.
Fixed some rankings weren't displayed correctly on first opening.
Fixed item tooltips were missing when having opened bag and bank in same time.
Magic Wardrobe
Fixed that changing gender with opposite sex items in equipment slots would cause issues.
Added error message when trying to confirm wardrobe changes with items of opposite sex active.
Rogue
Rogue/Warlock
Changed Focal Advantage 18% attack power to 12% dark damage.
Development
Added PLAYER_COOL_SUIT_CHANGE_FAILED and PLAYER_COOL_SUIT_LABEL_CHANGE_FAILED events.
Patch Notes 10.7.1.5100
General
Fixed tooltips of some armors and weapons were crashing game.
Fixed Cage Key was not dropping during Last Act (Part II) in Tikal (Easy).
Increased stack size of Knowledge Gem and Badge of the Worldwide fame to 999.
Changed internal way of how strings are loaded. (If you notice any issue with them, kindly please report it.)
For Newcomers
Added 15 movement speed potions on character creation.
Added starting zone to each races tooltip on character creation.
Reduced Recall and other transport skills cooldown to 20 minutes.
Changed Recall cooldown to work independently from other teleport skills.
Removed Tikal Prequest requirement from Understand the Happenings quest.
Housing
Fixed using house filters on furniture tab.
Fixed housemaid tab was missing first housemaid.
Rankings
Added Arena 3 vs 3 rankings.
Added new clear time rankings for World Bosses.
Added new clear time rankings for all custom and nostalgia instances.
Instances
Entity Chamber
Excluded pets from Runic Resonance.
PvP
General
Added search box to Guild List battle history window.
Siege War
Fixed it was possible to place towers inside Vehicles.
Visual Changes
General
Changed Auction House anchor to center of screen.
Added feature to update volume of game automatically when adjusting volume sliders.
Skill Book
Added search box.
Added skill type filters.
Added Show Index setting.
Added button with information about skills.
Disabled focusing on not-upgradeable passive skills.
World Map
Reworked visual of top bar.
Reworked visual of Legend frame.
Added button to open Area Map frame.
Fixed Auto move was often not useable.
Added zone & instance tooltips on hover.
Added zone color to world map dropdown.
Added Mirrorworld color to world map dropdown.
Added undo, current map/continent and Taborea buttons.
Fixed warning messages were covered by world map frame.
Changed position of DungeonLoots and QuestHelper buttons.
Changed mouse shortcuts. Added information button with mouse shortcuts.
Patch Notes 10.7.1.5101
Restored strings required for XBar addon.
Fixed Russian translation strings were buggy.
Fixed audio settings were having issues with saving.