For new players
Discover what Chronicles of Arcadia can offer to you and immerse yourself in a world like no other where you can enjoy adventures together with a large community of ever-expanding players.

Chronicles of Arcadia
Free content updates and regular maintenance.
Quick and effective Support Team to solve any problem.
Extended community to interact and widely enjoy the game.
Diligent GMs that will help you solve all the doubts you have in the game.
Over 9,000 exciting quests and epic mission series you'll love.
Exciting story that will catch you from the beginning.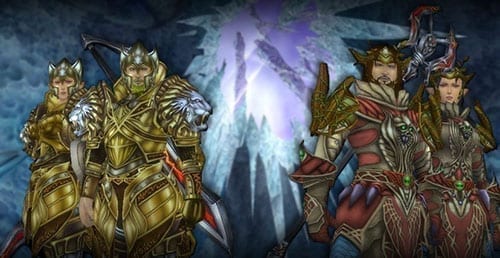 Character development
Three races to choose what best suits your preferences.
Eleven fascinating different classes to choose from.
Dual-class system with customizable skills, elite skills, and set skills that will make you invincible.
Armor sets with built-in bonuses to increase your power.
Advanced planting system for gardening enthusiasts, as well as processing and harvesting.
Customizable house and private housekeepers with special abilities, buffs and more.
Relationship and marriage system. With events and a special zone to level your relationships quicker.
Advanced wardrobe and lots of skins for those who love to dress in their own style.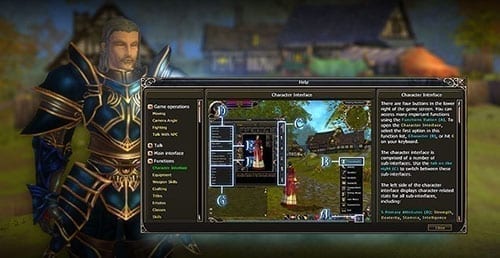 Easy start
Attractive and unique starting regions for each race that will surprise you.
Pet for beginners that will follow you until reach level 100.
Tutorial to take the first steps and for first quests series.
Control your character as you like, with the mouse and/or keys (WASD / Arrows / Mouse).
Customizable user interface allows you to use custom addons and configure the game as you like.
Game map and radar system to locate merchants, quests resources, and NPCs.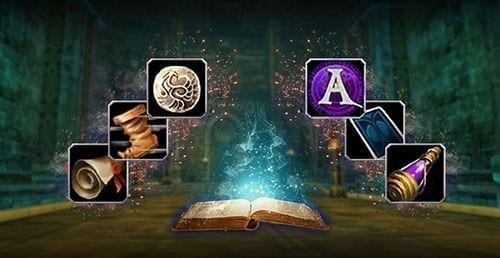 Achievements and activities
In-game and forum events as well as festivals to enjoy and get special rewards.
Customizable, upgradeable guild castles with different styles to choose from.
Daily quests and mini-games on zones and in guilds.
Extensive monsters compendium.
Extensive pet systems that will make your life easier and  will follow you on your adventures.
High amount of in-game and web rankings you can rule.
New monster compendion and card system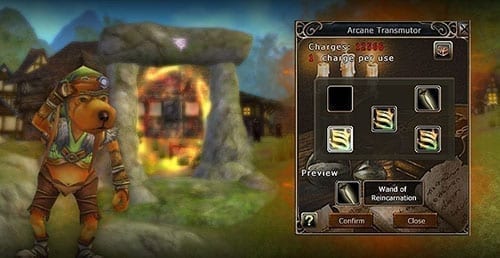 A world without comparison
Impressive group instances and raids with different levels of difficulty and public encounters that will surprise you.
Fast transport using portals and a transport book for those who do not have a second to lose!
Use the Auction House and become an expert in business.
In-game mails to make your communications much easier.
Arcane Transmutor to forge your power.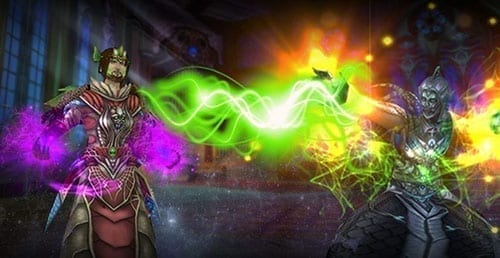 Exciting PvP battles
PvP battles against other players to have fun!
Siege Wars with powerful siege weapons and rewards.
Battlegrounds with different numbers of participants.
Various activities such as "Capture the Flag".
Duels, PK mode and PvP Events.
Join Chronicles of Arcadia now and start enjoying a world full of fantasy and incomparable adventures!
For returning players
Leveling
Maximum level: 105
Experience Points x5
Talent Points x10
Loot chance x7
10x lesser TP required.
Item to get instantly Level 105
Reduced added debt on many zones.
Reduced Item and Kill Count for Quests
Item to don't get any experience points.
Halved amount of exp required for 105 level.
New skill to lower the amount of gained experience points.
Increased level restriction of Atonement Voucher to level 100.
Increased amount of reduced XP/TP debt when touching your tombstone to 80%
Zones
Lost Island of Atlantis – main zone, worldboss Aldo, weapon training ground.
Talaghan – new zone, 82 new quests, 3 public zone events and challenges.
Garden of Eden – relationship leveling ground.
Celebria – Community Events zone.
Boss Event – Community Events party instance.
Atlas Defense – weekend party minigame.
Entity Chamber – worldboss Zhargos.
Instances
Cyclops Lair (Hard)
Hall of Survivors (Hard)
Hall of the Demon Lord (Hard)
Dalanis Nightmare
Secret Temple of Tikal (Easy/Hard)
Inferno of Divinity
Gorge of the Ice Giants
Realm of Forgotten Legends (Normal/Hard)
Heart of the Ocean (Hard)
Kalin Shrine (Hard)
Dark Core (Hard)
Ruins of the Ice Dwarf Kingdom (Hard Mode)
Engine improvements
Fixed flickering effects.
64-bit client and server.
High Definition textures.
Improved FPS.
Camera zoom speed option.
Improved RAM management.
Increased max camera zoom out.
Improved performance of effects.
Fixed all known crash types.
New graphics options for better performance.
Fixed multiple issues with saving game settings.
Screen resolution improvements, maximize and borderless modes.
Quality of Life
Increased gold cap.
Extended Bag slots.
Improved Whisper frame.
Buffs limit increased to 100.
Extended Relationship slots.
No expiration time for mails.
Extended Item-Set Skill slots.
Extended Item Shop bank slots.
Increased bag item queue speed.
Transmute stacked items in a bulk.
Reworked configurable unit tooltips.
Extended Transport Book (14 pages).
Sold items to NPCs available after relog.
Fixed most of known issues and exploits.
Possibility to sort buffs in multiple orders.
Spell type with colors on screen and in tooltips.
Option to show quest mark above low level NPCs.
Scrollable chat with copy buttons and Ctrl+A shortcut.
Reworked interface frames, tooltips, icons and textures.
All hyperlinks from other players on chat in your language.
Optionally new way of displaying item attributes in icon way.
Race and gender change, allowing have all classes on same character.
Siege War items aren't getting lost upon changing zone or disconnect.
Increased max stacks of food, potions, runes, phirius tokens and ammunition.
Improved vendor sell/throw confirmation to prevent removing valuable items.
Added attack/movement/ride speed, aggro, loot, tp/exp bonus information to character frame.
New content
Tier XIII runes.
New PvP Gear
Special PvP rune
Visual Costumes.
Bone scale modifiers.
Equipment skin cleaner.
Parent-Child relationship.
New gear type – Artefacts.
Colorful Auras with bonuses.
Improved Character Creation
Added built-in Quest State addon
New weapon skins, shields and wings
Added weapon charm for faster leveling
Added Search boxes in various windows
Arcadia Coins and Atlas Scroll currencies.
Equipment, Pet and Transformation skins.
Added saving of Account Details on Login
New fully playable class for all races: Bard.
48 new cards obtainable in the minigames.
Allowed to put weapons in Magic Wardrobe
Allowed to load more than 30 mails at once
Golden Wings with movement speed bonuses.
31 new stage 1 stats from various world bosses.
New weapons: Instruments, Spear, Katana and Gun
Added visibility of unlearned Elite spells and Duelist spells
Added region transport packages for faster access of zones
New equipment, mounts, pets, attributes, plussing stones, recipes.
Travelling Merchant pet – summonable shops and equipment repair.
Shadowmoon Merchant NPC – selling Item Shop items with other game currencies.
Shopping, trading & exchanges
Daily free gifts from NPCs.
Old-fashion revisited Item Shop with all items.
Regular discounts in Item Shop with suggested items.
Diamonds trade in Auction House.
Increased speed of Auction House searching.
Auction House listing limits: 1000 items.
Auction House maximum auction duration: 7 days.
Auction House maximum auction amount per player: 100.
NPC exchanges: Gold, Diamonds, Ancient Mementos, Honor Points, Badges of Trials.
Various improvements
PvP Reworked
Minigames reworked
Card System reworked
Balanced class skills.
Reworked Siege War titles.
Enhanced Guild Towers buffs.
Revised damage and heal formulas.
Elite skills for 20 new classes combinations.
Reworked and improved multiple Item Set Skills.
Removed damage and heal over time effect value cap.
Updated all rewards chest in the minigames with new loot.
Achievements
New in-game rankings.
Badge title level 5 with new bonuses.
Over 218 new festival and monster titles.
Over 776 new festival and monster cards.
Pets
New pet skills.
Fast pet craft tools.
Secret 13 Draco Pets.
Metamorphosis elixirs.
Pets with weapon training bonus.
Pet gathering level increased to 96.
Fast collecting loot with pet perfume.
Summon your Cenedrils and let them fight for you like pets.
Houses
New furnitures and pots.
New 30 and 40 slots chests.
Maximum Plant Count bonus.
Furnitures with gathering bonuses.
Possibility to reset fatigue of housemaids.
Increased maximum furniture slots to 1000.
Auto stack/stack split possibilities in house chests.
New 2400 furniture – Can be scaled to the size you like best
3 new external house styles with different sizes of usable area.
Options to customize external houses – ground, sky and music
Worthy VIP
The unique title Arcadia Supporter.
Free transportation.
Free recording of transport points.
50% Exp Bonus (Combat).
50% Tp Bonus (Combat).
50% Drop Bonus.
Purified Fusion Stone (1 per day).
Phoenix Redemption (1 per day).
Daily Quest Ticket (2 per day).
Malatina Reset Ticket (3 per day).
Gold character name, gold aura, unique icon near character name.
Golden Pet with weapon training bonus.
Golden Mount – 80% speed, can cross water, instant summoning (on PvE).
Regular events
Instance with no-tactics bosses in Celebria.
Relationship events to faster levelup relations.
Daily maximum leveled housemaid event.
Screenshot and story contests with unique rewards.
Anniversary events with login bonuses and free restoration cards.
Daily Advent Calendar for entering game and vouchers obtainable at forum.